I received a very unique question from one contributor-to-be.
"Well, what do I meant of commercial purpose is that if the book are for selling, I might not think it's wise to take our pic without paying us any compensation, correct ? (Correct me if I'm wrong coz what I read from your reply as the book are for sell.....)"
I've actually mentioned it a bit in my post before
Malaysia Book: Q&A
. Anyway, I replied him, and here's my answer to the question.
Thanks for yr reply.
Yes, you read right - the books are for sale. But the majority of the book is to be given free (about 9000 of it).
Now, to be able to do that, my co. needs to find enough sponsors to cover all printing costs & publishing costs as well.
I was just clarifying because I realise that a lot of companies can give you the answer 'for donation', 'non commercial' etc. Ive been to a few of them. And these companies are huge - spanking office, air cond, beautiful, nice address, and they are Non commercial.
Who pays the many staffs they have, and the CEO? lol :)
Do they work for free? No. They are compensated in another way.
My co. is diff - we are at this moment small. We mainly outsource everything. All of us work from home. My designer, my writers, myself & business partners.
But that is where the difference ends. Because our aim is just like these so called non commercial companies - for a good deed. Ie to promote Malaysia.
Reasons why we are not paying contributors - we want to see what the people see (what they love about the country themselves), not a commercially driven photograph project book (ie. not purposely take a photo because of monetary rewards).
PS: If we want just any photographs, Tourism Malaysia can provide all the photos we need - they have a library. In fact, for some photos that we cant get, we use them).
But to be fair to the contributors, we are hoping to get enough sponsors and give each contributor a copy of the book free.
The only thing is I can't confirm whether we can find enough sponsors. If we don't, we wont print so much, and obviously cant give each contributor a free copy. Maybe selected or something like that. We haven't work this out.
Finally, I will understand if you do not wish to participate in this. I just thought I should make myself clear :)
Thanks & keep in touch :)
QuaChee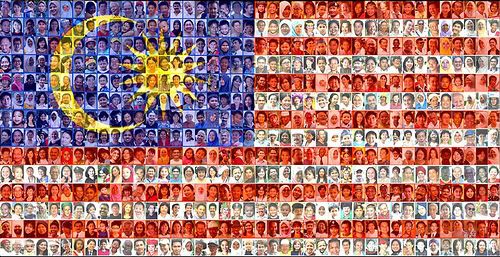 Well, I just wanted to share this for all the contributors to know where we are coming from, and also to highlight that sometimes 'Non Commercial companies' are not what they seem. Singapore has the NKF saga, while in Malaysia there was also a mention about these donation based companies sometime last year.
I myself have heard some top people misappropriating funds for their own benefits too, using funds intended for 'non commercial reasons'. These are registered organisations under the name Organisation.
Anyway, after sending the letter, I thought, ok, most likely this person will not be sending any photos. However, I has a pleasant surprised as he has actually sent a reply and is on the way to submit his photograph.
And it's for the best segment
50+1 Love Expressions
(to the country).
*Paying people to say 'I love you' is just not the same with something from the heart :)